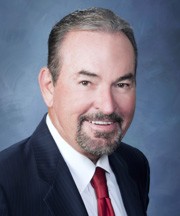 Ronald J
May, CFP
Managing Director - Investments
Ronald J May has been a financial advisor since 1977, having been with A.G. Edwards & Sons, a predecessor firm of Wells Fargo Advisors, for over 40 years, and now with  Wells Fargo Advisors.  Ron is a CERTIFIED FINANCIAL PLANNER™  practitioner and a Managing Director - Investments.  His team of 4 professionals strive to provide trusted advice and exceptional service to their clients.
Recognitions:
- Wells Fargo Advisors Premier Advisors*: 2008-2018
- A.G. Edwards Chairman's Council**: 1990 - 2007
Educational Conference Attended:
- Barron's Winner's Circle® Conference attendee
*The Premier Advisors designation is held by a select group of Financial Advisors within Wells Fargo Advisors as measured by business production, completion of educational components and professionalism.
**A.G. Edwards & Son's, a predecessor firm of Wells Fargo Advisors, awarded top Financial Advisors the designation of Chairman's Council to recognize their high level of client-service and production.